After a lot of considerations have you finally decided to renovate your patio? This is a great thing to do. So now you must be searching for different ideas. We have collected a few ideas that you can implement for the renovation of the patio.
Add a beautiful flooring:
Flooring is the first thing you should start your renovation with. If you haven't floored the patio area up till now, you should choose the right flooring type and get the floor done.
However, if there is existing flooring on your patio, you might want to use the same. Check if all the tiles are in place or if they need any sort of cleansing. Depending upon the requirements, you can spend a few dollars on maintenance rather than changing the entire floor.
If you are flooring the patio space for the first time, then here are a few tips you can follow:
Analyze the daily use of the patio before selecting the right flooring type

Consider the price of flooring you want to invest in.

Choose the right shop to buy the tiles or other flooring type

Ensuring all these steps would ensure that you buy high-quality tiles.
Add elements to make your patio lively:
Although, you can add anything you like we will suggest you go for a swinging seat. You can sit on that swing to relax, enjoy and work.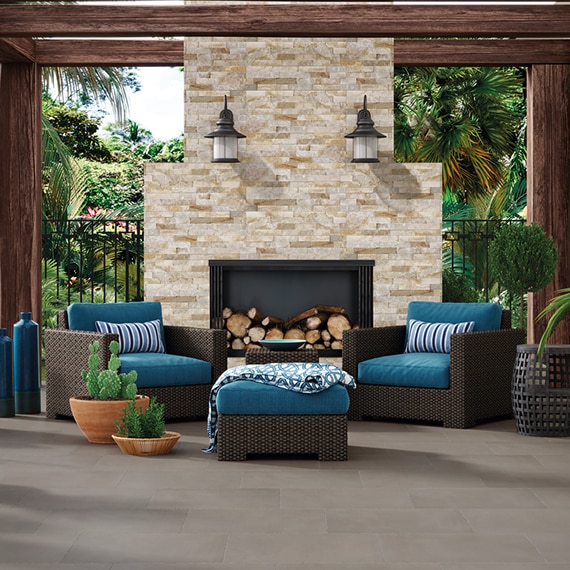 Besides, you can add wind chimes, flower pots, and artificial stone walls to make your patio area beautiful.
Complement with relevant and beautiful furniture:
Irrespective of the other items you have managed in your patio, adding a few items from the furniture range would be a great thing to do.
You can either add the cane chairs and tables or go for the wooden option. You'll find waterproof variety in the wooden range as well, so keeping it outside wouldn't be a problem.
Add a pool:
You can even add a small pool to your patio. Although, it would require a large investment you can make your area look lovely.
You can make your pool beautiful by adding the right kind of furniture and decoration items to support it.
Manage your parties:
Do you want a place to manage your party? You can get it at your home with great ease. All you have to do is create a specific theme and make arrangements in your patio accordingly. You can create temporary arrangements for your birthdays, events, and occasions.
Include an Artificial Wall:
You can also include an artificial wall in your patio area. It can be made of stones, tiles, and ceramics, depending upon your choice. You can surround the entire area with the wall. Hanging flower pots, plants, and wind chimes all these elements can be attached to this artificial wall to make it look beautiful.
Summing Up:
Patio renovation can be an interesting task. But you have to apply innovative ideas if you want to make it look extraordinary. The addition of beautiful flooring, pool, and furniture can be some of the options you can utilize for the patio renovation.